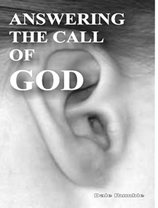 —Answering The Call Of God—
By Dale Rumble
Introduction
---
This is the third of three tracts written to address God's end-time purpose for His church. The first tract, "THE DAY OF THE LORD," dealt with those events that lead up to the return of Christ, and with what takes place when He does return.1 The second tract, "TO THE CHURCH IN AMERICA" presents the vision the church must possess in order to prepare herself for what lies ahead.2 This third tract describes how each child of God has been created and called to fill a unique personal place in the body of Christ. The church will be successful in the end-time purposes of God, not because of a few believers with great and powerful ministries, but because each member of the body of Christ fulfills their call in God.
The Issue
---
Many Christians seem unaware that when they were saved, their life was no longer their own. They now belong to God, and He has called them to a special place of relationship and service in the church. Some will say, "I am saved, and I am called to go to heaven." It is true that heaven is the ultimate destination for all who have been redeemed. However, the call of God has to do with our life in Christ before we go to heaven.
God has purposed to fill the earth with His glory and bring in a great harvest of souls before the day of His judgment. The church, empowered by the Holy Spirit, is the instrument by which He will accomplish His strategy. This requires the church to be wholly committed to the purpose of God, with each believer embracing the call that God has placed on his or her life. However most Christians do not realize that they have been created and fashioned by God for a personal, unique and precious place of service for Him. This is the issue that I am addressing.
What Does It Mean "To Be Called"
---
By faith in the death, burial and resurrection of the Lord Jesus Christ, one is saved and becomes a member of His church. The Greek word for church is "EKKLESIA," which means "the called out ones." The first truth of being called is that we have been called out of the world and its influence, and called into relationship with God. We belong to Him!
There are two phases of our call. First of all, we are called into the family of God, and secondly we are called into a personally unique place of service in the body of Christ. Both of these phases bear witness of God's saving grace.
God has promised that the world to come will be subject to man (Hebrews 2: 5-8). The place that we will have in that future era is linked to how well we have answered the "call" of God today (Revelation 2:26-27; Luke 19:13-26). Therefore, it is important to clearly understand all of the implications of what it means to be called by God.
First of all, our call is not arbitrary; it is a holy calling from God Himself, and it is centered in His purpose on earth.
Who has saved us and called us with a holy calling, not according to our works (or what we want), but according to His own purpose and grace which was granted to us in Christ Jesus from all eternity. (2 Timothy 1:9)
Our call is also time dependent since we are called according to God's purpose for our generation. To be called in the Dark Ages would be different than being called today. In those days the church was largely an unholy institution; today the church is exploding worldwide from institutional structures into spiritually organic, small groups (or house churches). It is a time of restoration. When we were born, where we live, and the people with whom we have fellowship, are not matters of chance. They are factors of our call in God.
The following scripture reveals the sequence of events that make up the call of God.
For those whom He (God) foreknew, He also predestined to become conformed to the image of His Son, so that He would be the firstborn among many brethren; and these whom He predestined, He also called; and these whom He called, He also justified, and these whom He justified, He also glorified. (Romans 8:29-30)
We understand the chronology of these events by recognizing that God is sovereign over time; He is eternal. Before God began creation, He moved forward down the corridor of time into the future to see whether each individual in their generation would choose to serve or to reject Him. His foreknowledge of their choice became the basis of His call. Those who choose the way of God, He predestines to be conformed to the image of Jesus and so to make up a family of sons. When these foreknown individuals are born in their generation, the Lord calls them to serve Him. When they respond to His call, He justifies them and they become His children. In due time, He will glorify them.
There are a growing number of reports of God calling people to Himself in Islamic nations through dreams and visions of the Lord Jesus. As they respond and seek to understand what it all means, they discover the gospel message and are saved.
Let us consider God's call of Paul, the apostle, as described in Galations 1:15-16:
Paul was set apart from his mother's womb — God's foreknowledge.
Paul was called and justified by the grace of God on the road to Damascus.
The call of Paul was to be an apostle to the Gentiles.
We do not have the right to choose how or where we will serve God; our call will be made known through and/or confirmed by the church. This was true for Paul as we read his testimony:
. . . What shall I do, Lord? And the Lord said to me, "Get up and go on into Damascus, and there you will be told of all that has been appointed for you to do." (Acts 22:10)
God calls us, we respond, the church confirms and releases us, and the Holy Spirit sends and anoints us. This is how we are called to serve Him.
Created and Equipped to Serve
---
We cannot fully comprehend the great detail and complexity of our creation in the womb of our mother. However, each of us is an expression of divine workmanship for a God-ordained purpose.
For we are His workmanship, created in Christ Jesus for good works, which God prepared beforehand so that we would walk in them. (Ephesians 2:10)
Although David did not possess knowledge of the human body that we have today, he did recognize that he had been uniquely made in his mother's womb to serve God as king of Israel.
For You formed my inward parts; You wove me in my mother's womb. I will give thanks to You, for I am fearfully and wonderfully made; wonderful are Your works, and my soul knows it very well. My frame (adult stature) was not hidden from You, when I was made in secret, and skillfully wrought in the depths of the earth; Your eyes have seen my unformed substance; and in Your book were all written the days that were ordained for me, when as yet there was not one of them. (Psalm 139:13-16)
Today we know that God has created all living organisms with a unique genetic code called DNA. DNA are molecules that contain the blueprints for living cells. The structure of DNA are long, complex, double helix molecules called genes. A genetic code is more than the ability to reproduce; it is the matrix on which all the biochemical needs of a living cell are defined. A human being has around 100,000 genes that contain approximately 3 billion bits of information which completely define the person. This includes properties such as gender, color of skin, eyes and hair, stature, latent talents and aptitudes for speech, music, and every other physical attribute that is related to our call in God.
We are living expressions of divine workmanship created for the purpose that God has prepared us for in our generation.
However, human talents and abilities alone cannot do the work of God; we must also be equipped in the realm of the Spirit. By the new birth and baptism in the Spirit, we receive a profile of spiritual qualities that sanctify our physical properties and so equip us for service.
This is only true to the extent that we yield our will to the Holy Spirit, for He is more than "spiritual DNA," He is the anointing and power behind all that we are and do. Although there are others, the following are eight essential spiritual qualities which enable us to fulfill our call.
1. Life
Just as DNA defines living cells, so also, scriptural qualities only apply to one who is alive spiritually.
For the law of the Spirit of life in Christ Jesus has set you free from the law of sin and death. (Romans 8:2)
2. Genealogy
We inherit our physical DNA from the DNA of our parents. In a similar manner, we inherit our spiritual identity from our Father in heaven.
. . . you have received a spirit of adoption as sons by which we cry out, "Abba, Father." The Spirit Himself testifes with our spirit that we are children of God. (Romans 8:15-16)
3. Anointing for service
The will of the Lord is that every member in His body is anointed in the work of God, rather than one or two prominent ministers. Jesus is the One who is to be seen, not gifted men. For this reason, diversity and variety describe how the Lord distributes His anointing for service. For example, there are nine spiritual gifts: the word of wisdom, the word of knowledge, the discerning of spirits, prophecy, tongues, interpretation of tongues, effecting of miracles and gifts of healing. There are also five diverse ministries of the risen Lord: prophets, apostles, evangelists, teachers and pastors (Ephesians 4:11). In addition, there is variety in the manner by which gifts and ministries are effected. To a large extent, this is a consequence of the many physical and personality qualities derived from our DNA.
There is also variety in how God speaks to us. He can send revelation by means of the scripture, through dreams and visions or through the ministry of other believers.
There are many ways, other than gifts and ministries, by which believers can share the life and love of God with one another. Some examples are, praying together, hospitality, showing mercy, exhortation, giving comfort, being a friend, etc.
God's anointing for service reflects the mosaic of diversity in the believers who make up the body of Christ.
4. Character
The greatest force in the world is the love of God . . . He is love! We develop godly character not by seeking to earn or merit His love, but through the Holy Spirit learning to share His love with others. God's one objective in our character development is to reveal His Son in each believer (Romans 8:29).
But we all, with unveiled face, beholding as in a mirror the glory of the Lord, are being transformed into the same image from glory to glory, just as from the Lord, the Spirit. (2 Corinthians 3:18)
The glory of the Lord that rises upon the church in the days of the final harvest will be a revelation of the Lord Jesus in His body (Isaiah 60:1-3).
5. Revelation
One cannot serve the Lord by simply following a set of rules. We continually need the Holy Spirit to reveal the Lord and His ways to us. Only by revelation will we understand how to answer and to walk in our calling.
That the God of our Lord Jesus Christ, the Father of glory may give to you a spirit of wisdom and of revelation in the knowledge of Him. I pray that the eyes of your heart may be enlightened, so that you will know what is the hope of His calling, what are the riches of the glory of His inheritance in the saints. (Ephesians 1:17-18)
Revelation enables us to see into the spirit world; to see the prize that is ours in the upward call of God in Christ Jesus.
6. Grace
From His unconditional love, God extends grace to His children that is uniquely related to the call He has placed on their life. There will always be sufficient grace for the circumstances surrounding us, and for the task before us.
But to each one of us grace was given according to the measure of Christ's gift. (Ephesians 4:7)

And God is able to make all grace abound to you, so that always having all sufficiency in everything, you may have an abundance for every good deed. (2 Corinthians 9:8)
Just as our calling was defined by God before we were created, so also was the grace that we would need to answer His call. In particular, grace was given to each believer according to the spiritual gifting of that person (2 Timothy 1:9; Romans 12:6). Grace brings God's presence and power into our lives.
7. Faith
God has allotted a measure of faith to every believer, a measure that is based on their call in God (Romans 12:3). Exercising this faith is the starting point of one's service for Christ, and as one grows in maturity and knowledge of the scriptures, his faith will increase. Faith without works is dead, being alone. True faith enables us to fulfill our call in God; it produces the good works that God has prepared beforehand for us to walk in.
8. Dependency
An important ingredient of spiritual strength is to recognize our need for other members in the body of Christ. God is building us together as a living organism, and we need one another. Each one of us is a living stone that the Lord has selected, shaped and sanded to fit a specific place in His church. We are members in particular, and the eye cannot say to the hand, "I have no need of you." (1 Corinthians 12:14-25).
There are certain traits, two in particular, that must be avoided in order to walk in godly dependency. One is seeking to be self sufficient and to not need others. The second trait is to expect more gifted persons to do the ministry. Both of these mind-sets can cripple body ministry.
What is the outcome then, brethren? When you assemble, each one has a psalm, has a teaching, has a revelation, has a tongue, has an interpretation. Let all things be done for edification. (1 Corinthians 14:26)
Our dependency is not on the person, but on the life-flow that Christ has built into the person. The Lord is glorified when every member of His body is equipped to fulfill their call in God.
Walking It Out
---
There are many practical factors to be aware of as one seeks to answer the call of God. The following are some of the more important ones.
Don't wait for something dramatic, such as a prophetic word, to begin embracing your call. Start by serving others with the love of God in simple ways. Ideally, this can begin in childhood.
Don't emulate or copy the techniques of others. Seek to express the love of Jesus in how and what you do, for you are called to represent Him.
Do not compare yourself or your calling to others. Always be thankful for how God has made and called you. Each believer is called to be an overcomer in Christ.
Confess the reality of your call to others and encourage them to do likewise. Mutual encouragement encourages body ministry.
Always remain accountable to those who oversee your life.
Seek out environments and relationships that will encourage you in your call. Avoid negative circumstances and conversations that would hinder you. God is positive about what He is doing in the earth; and so should we be.
Do not allow garbage from the world (eg, some of what is broadcast on TV) to pollute your mind and spirit.
Small groups (i.e. house churches) provide ideal dynamics from which to learn and grow in the call of God. They offer good environments in which to practice and to profit from mistakes. Character flaws are more likely to surface and be confronted when one is in a properly supervised small fellowship.
I have left the most important factor until last. Very simply, God is always more concerned with developing our character than He is with our gifting. He seeks for a family of sons who have been transformed into the image of Christ. Our failures, rejections, mistreatments, persecutions and afflictions are not signs of defeat; they are divine opportunities for God to develop our character.
And we know that God causes all things to work together for good to those who love God, to those who are called according to His purpose. (Romans 8:28)
In my opinion, the two virtues that are most necessary for one to spiritually benefit from unpleasant circumstances are humility and forgiveness. They are qualities that express a willingness to change.
Conclusion
---
We are living in a time of harvest. The Lord is preparing the church for a great, final ingathering of souls into His kingdom. As darkness continues to grow in the world, His glory will rise upon the church; not the glory of a few gifted ministries with powerful signs and wonders, but the glory of a many-membered body where Jesus is gloriously central in everything!
This is God's strategy to prepare for the day of the Lord. The responsibility that each believer has is twofold: to diligently be sure of his calling in God, and to walk worthy of that call. Paul's words to Ephesus provide us with good counsel:
. . . walk in a manner worthy of the calling with which you have been called, with all humility and gentleness, with patience, showing tolerance for one another in love, being diligent to preserve the unity of the Spirit in the bond of peace. There is one body and one Spirit, just as also you were called in one hope of your calling. (Ephesians 4:1-4)
A life that is committed to answer the call of God, is a purpose-driven life.
References
---
1. THE DAY OF THE LORD, a Fountain of Life tract, Dale Rumble
2. TO THE CHURCH IN AMERICA, a Fountain of Life tract, Dale Rumble